Here is a bit of a lesson plan to teach first grade spelling. Below you'll find the spelling lists for the first 8 weeks of grade 1.
Along with each week, is a list of any phonics sounds that are introduced during the week. This will let you know which letters or blends you should focus on during the week.
Word Shapes Puzzles
Also, I created a free printable word shape puzzle worksheet to go along with each week. You can download it at the bottom of this page.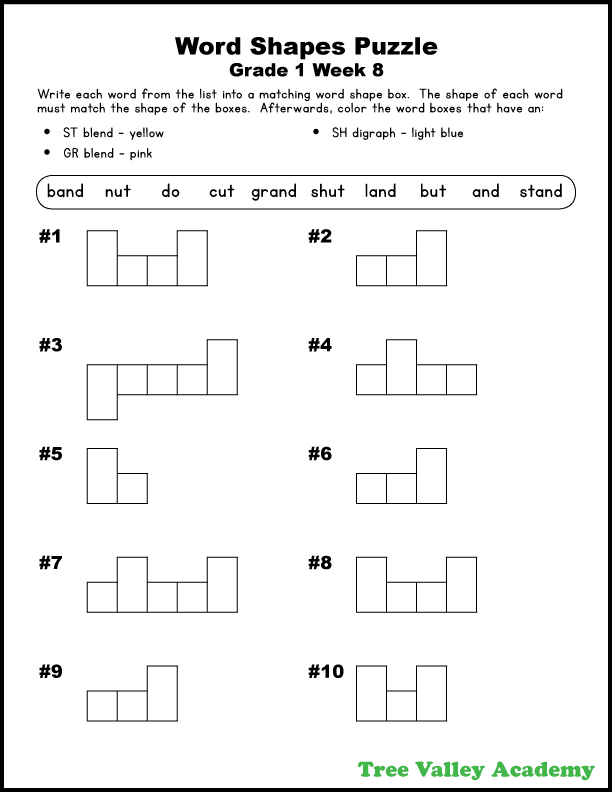 Each puzzle worksheet has all 10 spelling words of the week. There are also 10 word shape boxes. Kids will need to match the shape of each word to its matching boxes.
A word shape puzzle will help kids work on learning to spell their words since they will be focusing on the individual letters that make up the word. A puzzle gets kids to write out the word while trying to make it fun.
After completing the puzzle, the worksheet asks kids to color the word boxes that have certain phonics sounds. For example it might ask kids to color the boxes for the words that have a short A sound yellow, or a GR blend pink.
There's one puzzle per week which can be downloaded at the bottom of the page.
Here are the weekly spelling lists for weeks 1 – 8:
1st Grade Spelling Words Week 1
a
as
am
an
if
is
his
I
on
of
Phonics Skills Introduced
Here are the phonics skills that are introduced this week:
short I sound
short O sound
long I sound
Week 2
us
up
me
he
she
we
be
so
no
go
Phonics Skills Introduced
The new phonics sounds to go over this week are:
Week 3
at
bat
cat
fat
hat
mat
pat
rat
sat
flat
Phonics Skills Introduced
This week is all about _AT family words. The new phonics sounds to cover with your students are :
Week 4
that
the
they
them
then
this
you
your
my
by
Phonics Skills Introduced
The TH blend is a focus this week. The new phonics sounds of the week are:
TH blend
short E sound
Y: the sounds it makes as a vowel and as a consonant
EY – makes long A sound
Week 5
it
bit
fit
hit
kit
lit
pit
sit
spit
its
Phonics Skills Introduced
This week is all about _IT family words. This weeks new phonics sounds are:
SP blend
consonants K & L
Week 6
bet
get
jet
let
met
net
pet
set
wet
mom
Phonics Skills Introduced
_ET family words are the focus this week. The only new phonics sound is:
Week 7
dot
hot
lot
not
pot
slot
spot
part
him
her
Phonics Skills Introduced
This week focuses on _OT family words. The only new phonics sound is the:
Week 8
but
cut
nut
shut
do
and
band
land
stand
grand
Phonics Skills Introduced
This week is about the family _UT words and _AND words. There are 2 new blends to learn this week. They are: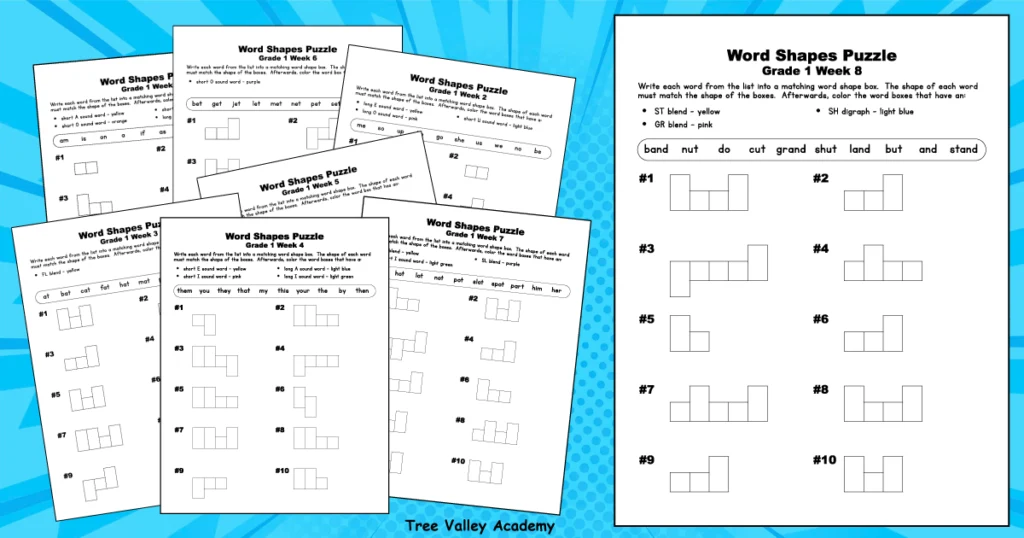 Printable 1st Grade Word Shapes Puzzles
You can download and print all 9 pages of the 1st grade word shapes puzzles below. The free printable pdf includes an answer sheet.
Grade 1 Spelling
A printable master list of all 32 weeks of these 1st grade spelling words is available for download.
A complete 1st grade spelling workbook pdf is available that makes it really easy to teach your first grader spelling. It has everything you need, including dictation sentences, worksheets for all the phonics sounds and blends as they are introduced, and more.
More Word Shape Puzzles
To continue with the next 1st grade spelling weeks, see the links below. They all have free printable word shape puzzles.