Grab a free printable August 2023 calendar worksheet for your 1st or 2nd grade students. There's a different page for each of these early elementary grades.
The free downloadable pdf also includes a blank printable calendar for the month of August 2023.
Calendar worksheets are a great tool when teaching calendar skills to kids.
This month the calendar worksheets have a fun ice cream theme.
August Calendar Worksheet
Kids will only need a pencil, a few crayons, and the printable calendar worksheet for their grade.
The daily calendar worksheet is meant to be used multiple times throughout the month of August.
Both the 1st grade and the 2nd grade worksheet have 17 calendar questions each.
Each day the child works on their worksheet they can:
find the date on the calendar and draw an X in the box
answer one calendar question
color the ice cream scoop (and cone and cherry) of the calendar question they've successfully answered.
Calendar Questions
1st Grade Calendar Questions
The first grade calendar worksheet has:
4 months of the year questions
9 days of the week questions
2 seasons questions
2 what is the date questions
2nd Grade Calendar Questions
The 2nd grade page has:
11 what is the date questions (lots of practice learning to read the calendar)
2 months of the year questions
3 how many questions
1 days of the week question
August 2023 Monthly Calendar
For those that wish, there's also a full page printable calendar for the month of August 2023.
It's optional and doesn't need to be printed unless you want to.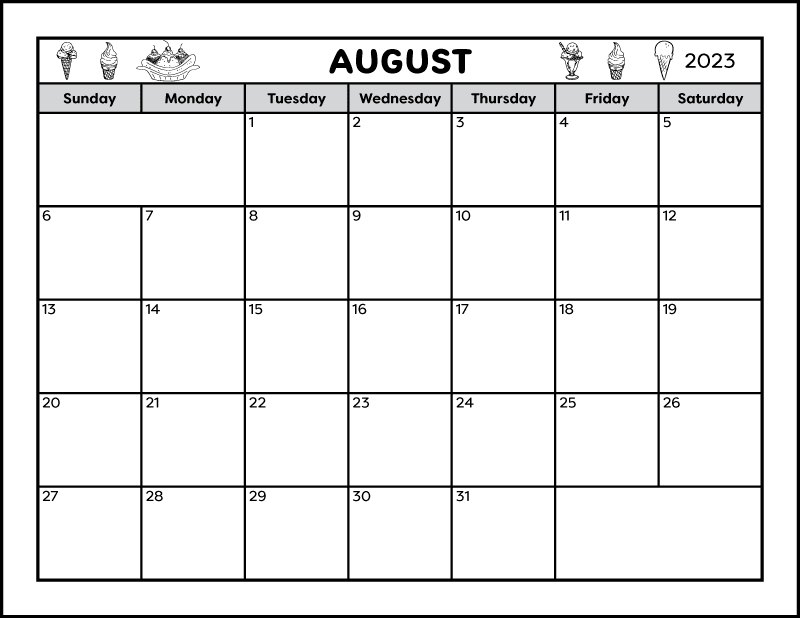 Printable August Calendar Worksheets
The August 2023 calendar worksheets can be downloaded free below.
The printable pdf contains two math calendar worksheets to choose from:
page 1 is for grade 1 students with 1st grade calendar questions
page 2 is a calendar worksheet for grade 2 students
There's also a printable August 2023 calendar on page 3 for those that would like a full page calendar of the month.
Here's the calendar worksheet for the month of September.