Grab a free printable September 2024 calendar worksheet for your 1st or 2nd grade students. There's a different page for each of these early elementary grades.
There's also a full page printable calendar for the month that you might enjoy using.
The printable worksheet can be an excellent way to help teach the calendar to kids.
It's designed to be used for the entire month. Every school day, have your student answer one calendar question.
One question can go quite fast and should only take a minute or 2 each time. But progressively, they will be building up their skills of reading a calendar.
September Calendar Worksheet
Kids will only need a pencil, a few crayons, and the printable calendar worksheet for their grade.
The worksheet uses the calendar for the month of September 2024. That way, they will be able to answer questions related to the current date and season.
The daily calendar worksheet is meant to be used multiple times throughout the month of September.
Kids can answer directly on the page with minimal writing required.
For many of the questions, they will only need to circle, color, trace, or draw the answer. For other questions, they might need to write a number or a day of the week. The most they will ever be asked to write is the current date.
Calendar Questions
There are 21 calendar questions on the first grade worksheet and 19 questions on the second grade page.
1st Grade Calendar Questions
The first grade calendar worksheet has:
2 months of the year questions
12 days of the week questions
2 seasons questions
4 what is the date questions
1 how many question (i.e. How many days in a week?)
2nd Grade Calendar Questions
The 2nd grade worksheet has:
5 what is the date questions (lots of practice learning to read the calendar)
2 seasons questions
1 months of the year question
1 how many question (How many days in a week?)
1 how many days until question
9 days of the week questions
September 2024 Monthly Calendar
Here's a full-page printable calendar for September 2024.
It's optional and only needs to be printed if desired.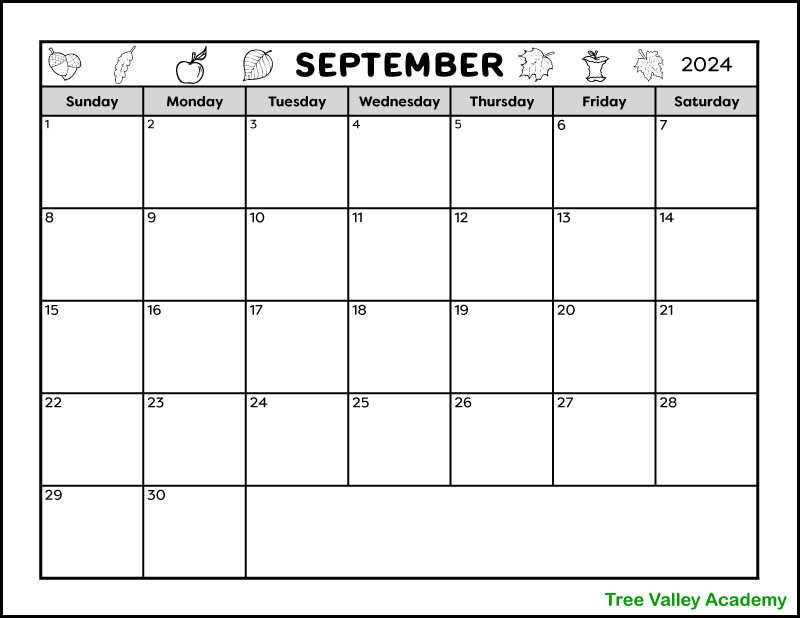 Calendar Learning Ideas
A full page calendar was requested by some who would like a blank calendar for their child.
They wanted something large enough for their child to add their own important dates and answer calendar questions based on their own personal life.
It might also be useful to help your child learn time management as they learn to organize their own personal schedule.
For example, at the beginning of each week I give my daughter a list of everything she needs to get done during the week. And she is allowed to schedule her own week.
She writes on the calendar any activities or things we already have planned and then decides which day she does what.
I encourage her to schedule everything between Monday and Thursday to leave Friday as a spare day in case she needs more time to complete something or to allow flexibility if something unexpected comes up.
The only requirement I give her is that everything must be completed by the end of Friday. If not she may miss out on fun activities during the week-end.
Printable September Calendar Worksheets
A free copy of the calendar worksheet can be downloaded below. The calendar is for the month of September 2024.
The printable pdf contains two math calendar worksheets to choose from:
page 1 is for grade 1 students with 1st grade calendar questions
page 2 is a calendar worksheet for grade 2 students
There's also a printable September 2024 calendar on page 3 for those that would like a full page calendar of the month.
If you'd like, you can also download the calendar worksheet for October or printable calendar worksheets for other months.