Here is a fun lesson plan to teach kids the colors in french. You can grab a free printable french colors worksheet to help kids learn 12 of the most common french colors. Kids will also learn to say, read, write and spell the colors in french.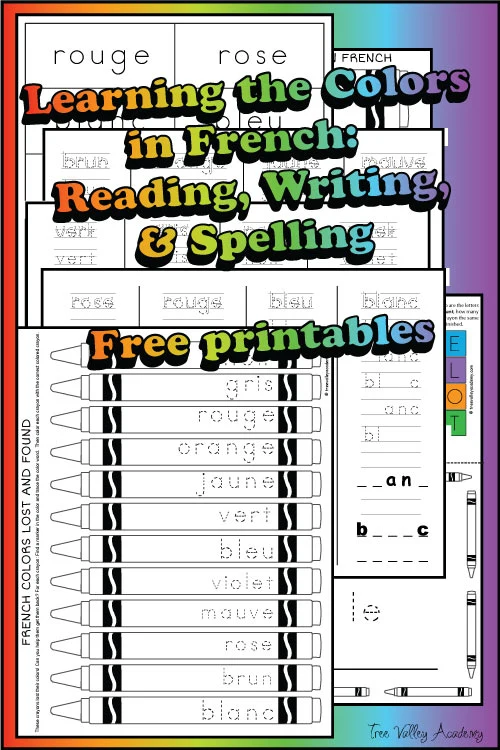 Common Colors in French
Here are the french words for 12 of the most common colors. Below is the english to french translation for these colors as they are commonly used in Quebec, Canada.
| | |
| --- | --- |
| English Color | French Color (m) |
| red | rouge |
| blue | bleu |
| yellow | jaune |
| green | vert |
| orange | orange |
| pink | rose |
| white | blanc |
| black | noir |
| brown | brun |
| gray | gris |
| purple | violet |
| a lighter purple | mauve |
Pronunciation of Colors in French
To help your child learn these colors, here is a 4 minute video tutorial teaching 12 common french colors and how to read and pronounce them.
It is taught by my french speaking 6 year old. I always feel kids learn well from other kids.
Free Printable French Colors Worksheets
I created 7 free printable french colors worksheets to help kids be able to practice the english meanings of the french colors and to learn to read, write and spell the colors.
Kids can test their memory of the colors in french with this printable. They read each word and indicate which colour it is by simply coloring a small dot in the upper left corner with the correct colour.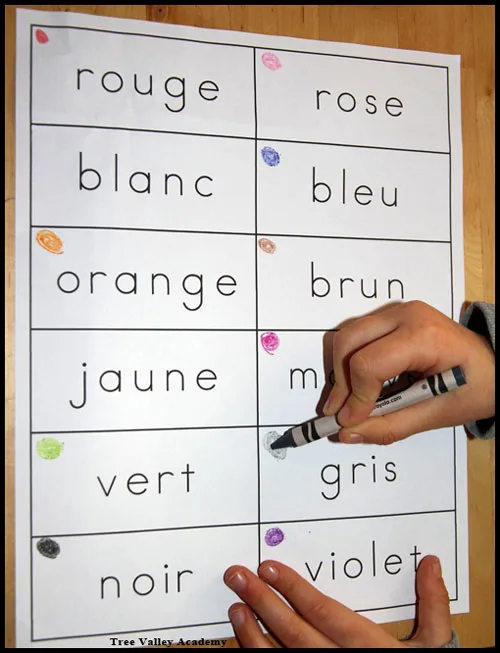 Then this doubles as reading flashcards. Just cut on the lines to make the 12 flashcards. Option of showing your child the flashcard with the color dot displayed or very easy to cover the color clue when holding the flashcard if working on the english translation of the color.
As far as the next 3 printables go, I had originally created the english version as part of The Day The Crayons Quit activity for kids. But since my daughter needed to learn to spell the colors in french, we now have a french version.
This first page they get practice writing the words including each letter correctly. Then a fun way to practice the meaning of each word by coloring each crayon the color indicated.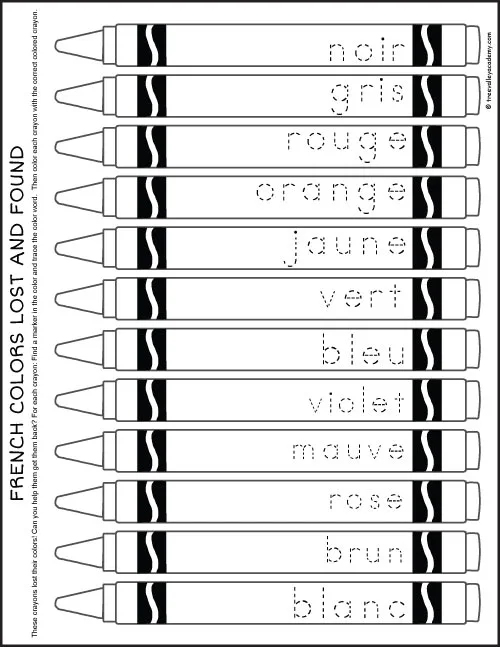 Lots of practice sounding out the sounds of each color word by unscrambling the letters.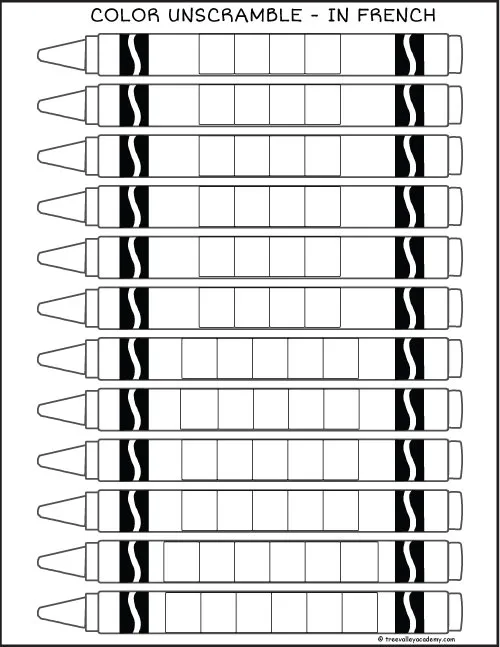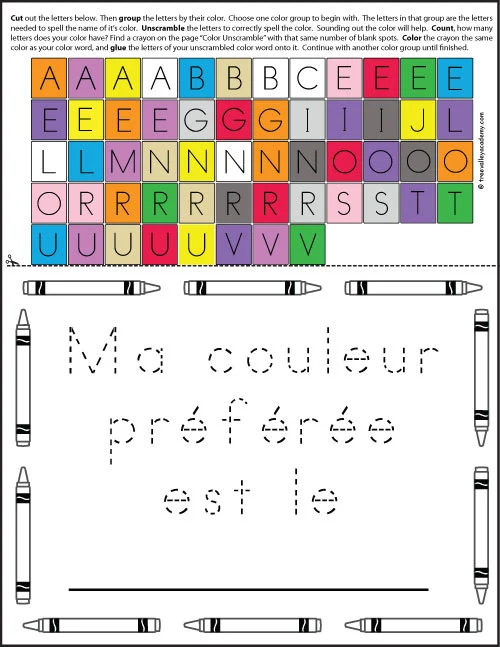 Spelling the Colors in French
In our homeschool, I need to ensure that my daughter stays on track with what she would be learning in a french public school in Quebec, Canada. That means keeping up with the list of french words to learn to spell in each grade. So in Grade 1, the colors: jaune, noir, rouge, vert, bleu, rose, brun, blanc, and gris are to be learned. Orange is a Grade 2 word, or (gold) a Grade 3 word, violet a Grade 5 word, and I don't see mauve on the list.
So to help my daughter learn her french spellings, I created some printables to help her. It helps her sound out the sounds that make up each word. It doubles as her weekly learning to print letters correctly.
The way we do it: I cut a piece of construction paper in half lengthwise and glued the 2 pieces together to make one long and narrow rectangular piece. My daughter uses this to cover the vertical section of each word. I cut out an area large enough to display one word at a time. See photo for a better idea of what I mean.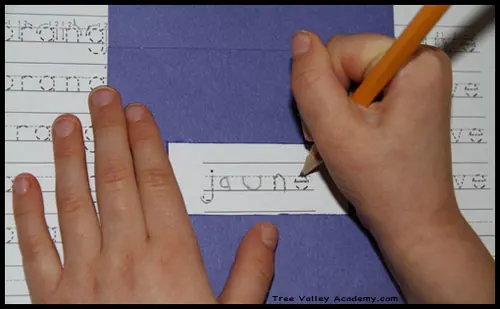 We work on french spelling a little each school day. Towards the end of the week, I simply took a lined paper, and coloured a little dot of each color beside a line. Then my daughter wrote the french color beside each dot. This helped me see which words she had mastered and which we needed to still work on.
All 7 pages of the free printable french colours worksheets can be downloaded below. The pdf will include worksheets to help your child practice reading, writing and spelling the colors in french.
Additional Online Programs to Learn the Colors in French
Here is one online program to practice colors in french. Notice at the top of the game there are 4 numbers. When finished with level 1 click on #2 and so on.
As I discover more I will add to this.