A Picky Eater
My daughter is 5, and up until 3 months ago used to be the poster child for the perfect non picky eater.  She could never get enough of fruits and vegetables, didn't like most candies, and was more than willing to try the oddest foods, that I personally was not brave enough to try.
Then I don't know what changed but one by one, foods she used to love, I could not get her to eat.  She is currently a picky eater, and it drives me crazy.  It's a new challenge for me and one that I am still trying to figure out how to best deal with.
One attempt of mine to improve her recent eating habits is to sort of use peer pressure – the positive kind.  A new season of Masterchef Junior is currently playing on TV, and it's a show we both enjoy.  The 8 – 13 year olds cook up a storm with a huge variety of foods and my daughter aspires to be like them one day.  I tell my daughter that these kids have trained their palettes to eat such a variety of foods, and we have to work on training her palette.  To do this we need to try a variety of foods.
How to Make an Apple Pie and See the World
So the theme of this months Poppins Book Nook couldn't have come at a better time.  The theme is "Feasts Around The World".
I chose the book How to Make an Apple Pie and See the World.
To make an apple pie, you just go to the store to buy the ingredients.  But what if the store is closed.  In that case the book takes readers from country to country around the world to gather the ingredients needed to make the pie.
Getting sugar from a sugar plantation in Jamaica, or cinnamon from bark of a tree in Sri Lanka is obviously out of our reach, but we could go to an apple orchard to gather the apples, and so that is what we did.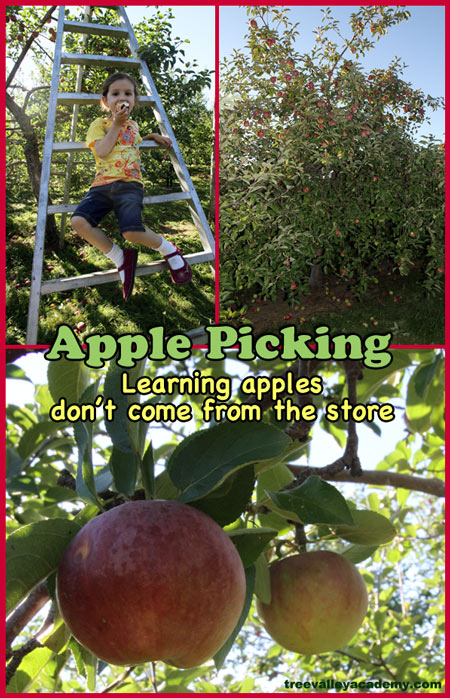 It was a fun afternoon of picking and eating…a lot of eating :).
We used those apples to make an apple pie.  There is a recipe in the book for an apple pie, but I decided to make a German apple pie instead.  My mother is German and I grew up on German food.  Unfortunately my daughter is not being exposed to German food like I had been, so it was time to expand her palette by letting her experience some delicious German food.
A German Feast
I only have a small counter in my kitchen and don't have a kitchen table, so cooking a one time feast was not really feasible for me at the moment.  But that didn't mean we couldn't have a German inspired food week.
One of the days, I made some delicious German potato salad, just the way my Oma would make it.  My daughter helped me make it and we both had no trouble finishing it off.  So far so good.
Another day I took her to a German grocery store with a german restaurant inside.  We had Schnitzel with sautéed mushrooms and a delicious gravy along with Spätzle, and other sides.  Some of it she liked, some not so much.  She's not a huge fan of sauerkraut for example.  After our main course, I let her choose some more delicious german desserts.  Who am I kidding? We pigged out on deserts!  And of course we had to bring some home for later, along with other groceries from the German store to try at home.
Since you can never have too much yummy German deserts,  I then made the German Apple Pie with the apples we picked from the orchard.  It took me the whole afternoon.  It was not really something my daughter could easily help me with, so I made this myself, and just let her enjoy the eating part.  Well definitely we both really enjoyed it.  Even extended family came out of hiding to enjoy it with us.  It's one of those deserts that if you blink too slowly, you'll miss its disappearance :P.
Recipe for German Apple Pie
The recipe calls for 2 kg of apples.  I'm not exactly sure as I've never really weighed the apples and just peel and cut till it looks like I'll have enough.  Don't cut the apples too small that they will turn into mush, but not too big either.  The picture below shows about how big to cut them.

I went a little overboard in my apple cutting and quickly realized I needed a bigger pot.  Yes I had quite a bit of the cooked apples left over at the end to make another smaller pie with.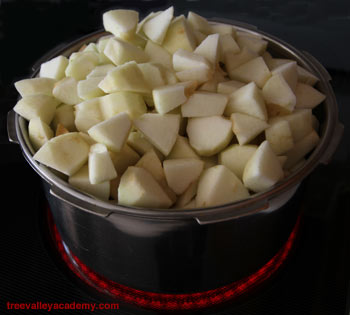 Ok, found a bigger pot, now it's time to add raisins, sugar, and a very little water.  Beginning with about 1TB of water at the bottom so the apples don't stick when you first start cooking them.  The apples will release some of their natural juices quite quickly during the cooking process.  The raisins soak up the liquid, and the sugar to sweeten.
75-100g sugar (3-4 heaping Tablespoons)
50g raisins
1/2 teaspoon cinnamon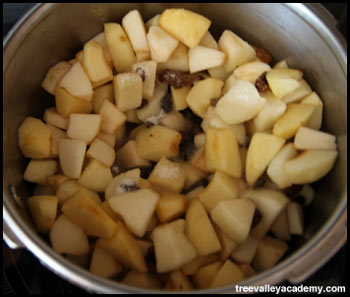 You don't want to cook the apples until they go to mush, only till they look glossy.  It takes around 10 minutes of cooking and stirring on low heat.  Usually the raisins do a good job of absorbing the juices, but incase there's still liquid, use a little cornstarch to thicken it.  It should not be runny.  Once the apple filling is cooked, it's time to set aside to let it cool.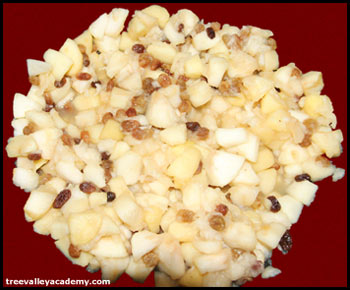 While the apples are cooling, it's a good time to work on the dough.  You'll want to thoroughly clean your countertop as this recipe is mixed without a bowl, usually directly on the countertop.
300g white flour
6g baking powder (2 Tablespoons)
Mix the baking powder and flour and sift together in a heap.
100g sugar
vanilla extract or rum extract
1/2 egg yellow
1 egg white
1 Tablespoon milk
150g butter
In a small bowl, mix together the egg yellow, egg white, and milk.  The other half egg yellow can be saved for later to paint the top of the dough with.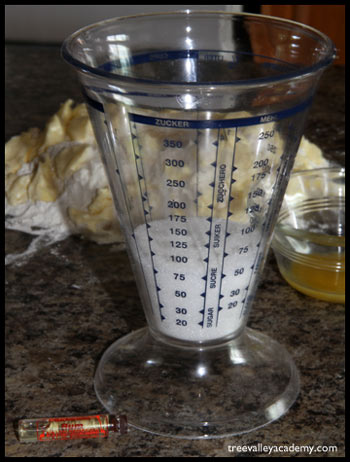 Make a hole in the middle of the flour/baking powder mix to dump in the egg/milk bowl contents, the vanilla extract and sugar.  The room temperature butter can be broken in small bits and spread around the flour heap.
Using your hands, start from the middle and carefully work your way to kneading it into a ball of dough.  Different flours have different levels of absorbency, so if your dough is too dry, add a little milk.
Divide the dough into 2 equal parts.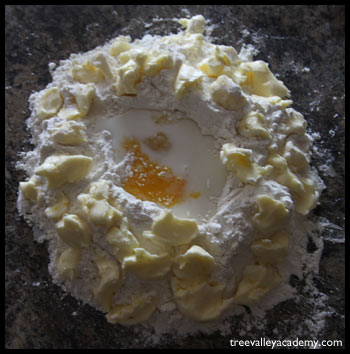 In case the dough is too sticky, put it in the fridge for a few minutes before rolling it out.  You'll want to roll the one ball to fit the bottom of the pan like shown below.  Notice the dough goes up the sides of the pan just a little.
Rolling the dough and getting it into the pan can be tricky.  Here's some helpful tips.  Cut a wax or parchment paper the size of the pan.  Sprinkle some flour down on the counter to prevent the dough from sticking.  Roll the dough out and then stick the cut parchment paper on top of the dough and use it as a stencil to cut the dough the proper size.  Carefully roll the dough and parchment paper to be able to transfer the dough into the pan and unroll it.
You don't need to precook the bottom layer since you were careful to make sure the apples were more of a solid and not with liquid.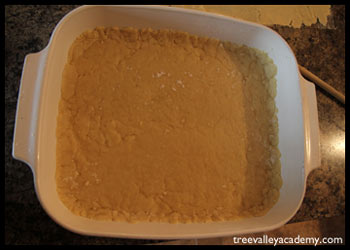 The cooled apple filling is placed over the bottom dough layer followed by the top rolled out layer of dough.  Now is a good time to use that other half egg yellow to paint the top. It's important to take a fork and prick the dough like shown below.  And now it's time to get in the oven.  350 degrees on the middle rack for about 30 minutes but really watch it, when it gets golden brown, it should be good.  Since the apples have been previously cooked, it's just a matter of the dough getting cooked.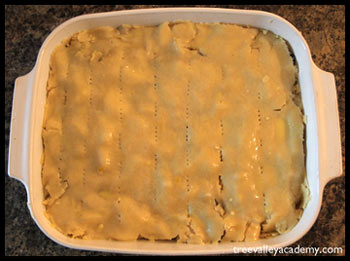 Once the german apple pie is cooled a bit, top with icing, and serve with whipping cream.  It's so very delicious!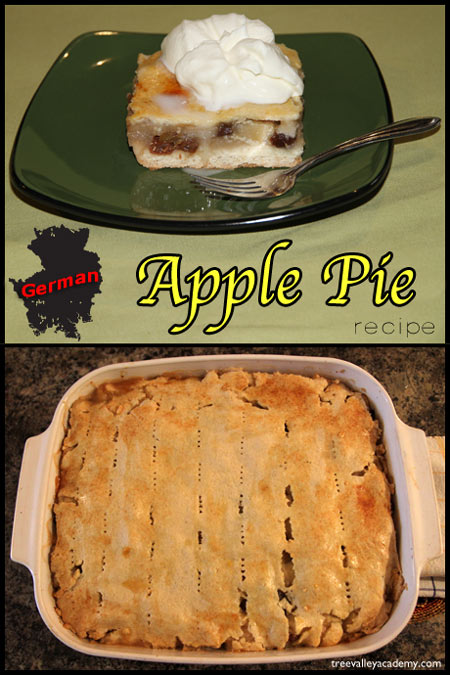 For more Poppins Book Nook fun, visit these co-hosts:
Enchanted Homeschooling Mom – 3 Dinosaurs – ABC Creative Learning – As We Walk Along the Road – Brain Power Boy – Embracing Destiny – Every Bed of Roses – Growing in God's Grace – Kathys Cluttered Mind – My Bright Firefly – Peakle Pie – Preschool Powol Packets – Pray Species – SAHM I am – Stir The Wonder – Sunny Day Family – Sweet Silly Sara – To the Moon and Back – Tree Valley Academy – Witty Hoots
Loading InLinkz ...
SaveSave