There are so many great resources available for homeschooling parents to teach art history to even the younger school aged children. I have a 5-year-old so finding resources that make art history fun to learn and appropriate for her age is my endeavour.
I'm sharing the best videos, books, and activities I have found that will make learning art history fun for kids ages 4 to 8. We will learn about 7 famous artists:
Vincent van Gogh
Pablo Picasso
Leonardo da Vinci
Edgar Degas
Henri Matisse
Claude Monet
Paul Cézanne

Art History Books For Kids
Anholt's Artists Activity Book Review
One great book for introducing art history for kids is Anholt's Artists Activity Book.
It introduces children to 7 famous artists, one at a time, in a kid friendly comic book style. Children will get to:
paint a portrait with Vincent van Gogh
make a funky junk sculpture with Pablo Picasso
design a marvellous machine with Leonardo da Vinci
make an action sculpture with Edgar Degas
make a colourful cutout composition with Henri Matisse
learn to work with water colours with Claude Monet
and take a charcoal challenge with Paul Cézanne
Our Experiences & Opinions of the Book
My daughter enjoyed the stories and was more than willing to get started on the art activities. If she had her way, she would have done every story and every art activity in the same day, back to back. She was less than thrilled when I only allowed her to complete one artist per day.
After going through the book once, I can say it's a great book to include in an art history homeschooling curriculum.
And it's definitely not a one time use book. I can foresee us using it in our home school for many years to come, with my daughter getting more out of it with each year.
For example, there's a "Chat about Art" section after the story with each artist. I sort of hand-picked some tidbits of info to share with my daughter from that section, but for the most part, that section will be more at her level in a year or 2.
One thing I love about this book is it's not a grab these exact supplies and follow step by step to create this exact art piece. Instead, it puts the creativity in the hands of the child while giving them art tips and techniques they can use in their own creation.
I had to hold myself back a bit from giving my daughter my creative input, and allow her to be the artist. She came up with things that I personally would not have come up with, but that was the point, she was the artist, and I had to allow her to be so.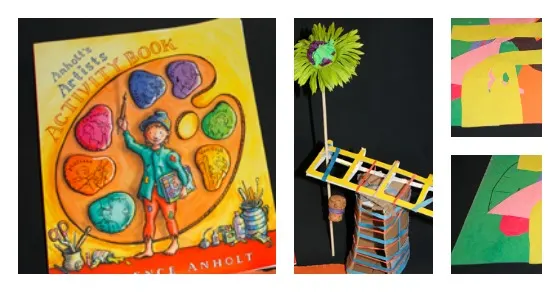 Famous Artists for Kids
I have compiled some more great books, art activities, lessons and animated videos to further supplement your child's study of the 7 famous artists introduced in Anholt's Artists Activity Book.
Vincent Van Gogh
Here's a fun YouTube video for kids about Vincent van Gogh:
Check out my Van Gogh for Kids board on Pinterest to see some fun activities you could do when learning about this artist.
Pablo Picasso
Here's a Picasso for kids board on Pinterest, where you can find some fun art projects or activities to learn about Picasso.
Leonardo da Vinci
Here's a fun YouTube video for kids on Leonardo da Vinci:
You can find a variety of activities to learn about this artist in this Leonardo da Vinci Pinterest board.
Edgar Degas
To introduce kids to Edgar Degas, here's a cartoon for kids to watch:
You can find some Edgar Degas activities on my Pinterest board for the artist.
Henri Matisse
There are 2 fun animated short stories for kids about Henri Matisse on Youtube:
Here's a link to my Pinterest board where you can find a variety of educational activities for kids on Henri Matisse.
Claude Monet
Here are some cartoons about Claude Monet:
Check out my collection of Claude Monet activities on my Pinterest board.
Paul Cézanne
I've collected a variety of activities for kids to learn about Paul Cézanne on a Pinterest board.