As part of our farm unit this month, we read the children's book "The Cow Loves Cookies", by Karma Wilson. To go along with our reading of the book, I created a fun printable book activity that I will share with you.
It's a spelling activity, a coloring worksheet, a word scramble, and a spelling scavenger hunt. It uses farm themed spelling words found in the book "The Cow Loves Cookies". Even so, this spelling activity could still be used with most farm themed children's books.
This book activity can be adapted for use with preschoolers to second grade.

The Cow Loves Cookies
The Cow Loves Cookies is a colourful book with just the right amount and size of words to be a great reading book for my early reader. It's about a farmer who feeds all the animals on his farm. And I'm sure from the title, it's obvious what his cow loves to eat.
Farm Themed Spelling Activity
Description
Largely, to go with the book The Cow Loves Cookies, I created an 11 page printable spelling activity that can be adapted for use with preschoolers, kindergarten, first grade, and second grade children.
It's free to download and print.
The first 5 pages have 34 farm related words separated into individual cards.
Each card has a farm related word with scrabble size letters and an image for your child to color.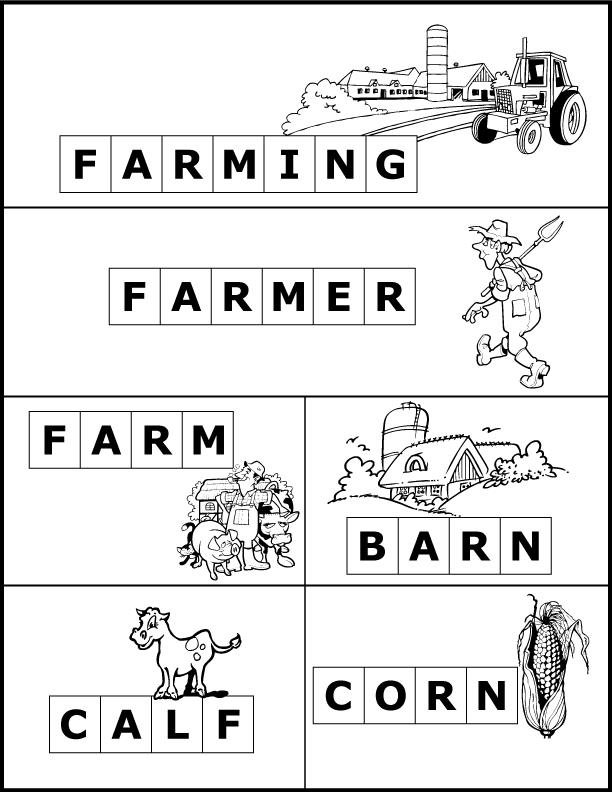 There's also a page for a printable scavenger hunt.
The remaining 5 pages are similar to the first 5 except the letters are missing. These can be used for word scrambles, or practicing the spelling of the words from memory.
How to Use It
You can use the activity as you see fit, but the following is my suggestion.
First read The Cow Loves Cookies or another farm book with your child. Let them read all the words they know.
Reading with a beginner reader
When I read this book to my daughter, I told her we were going to read it together. I read the words that she is not as familiar with yet, and paused at words I know she can read.
That way she gets to read as much of the story as she can. Each time, she is able to read more and more of the story by herself.
She is getting to be a better reader all the time, so I'm slowly adding spelling to our regular routine.
Coloring Worksheet
Choose a page of words to learn at a time.

Let your child color the images of those cards.

While they are coloring an image, they will see the word that is spelled, which will aid them to more naturally and effortlessly absorb its spelling.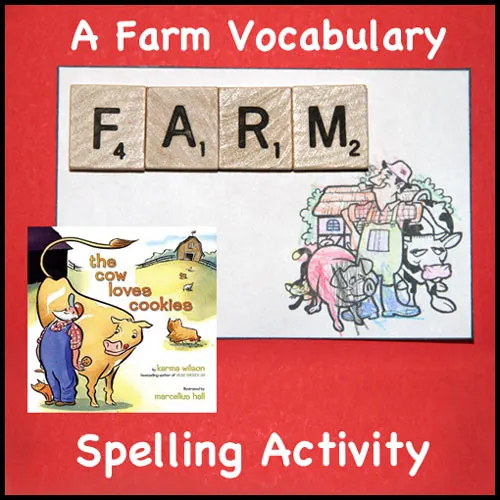 Go over the sounds the letters make with your child.

Do you have a scrabble game with scrabble letters? If you don't, you can use other letters of your choice.

Let them search through the pile of letters to find the letters they need to spell a word. There's a spot on each card for them to place the letters in the correct order.

This will have a similar benefit to a word search for kids, since it necessitates kids to pay attention to the individual letters that make up a word.

If your child will be doing the word scramble in the same day, to save some time, instead of putting the letters away afterwards, save the letters for each word already found. You can put the letters aside in little groups, grouped by word, and page.
Word Sound Scavenger Hunt Worksheet
Once your child has completed all 5 of the coloring worksheets, you can have them cut out the cards on the lines.

It will be good cutting practice for kids that are working on this skill. Or of course you can cut them out if preferred.

Grab the free printable word sound scavenger hunt worksheet.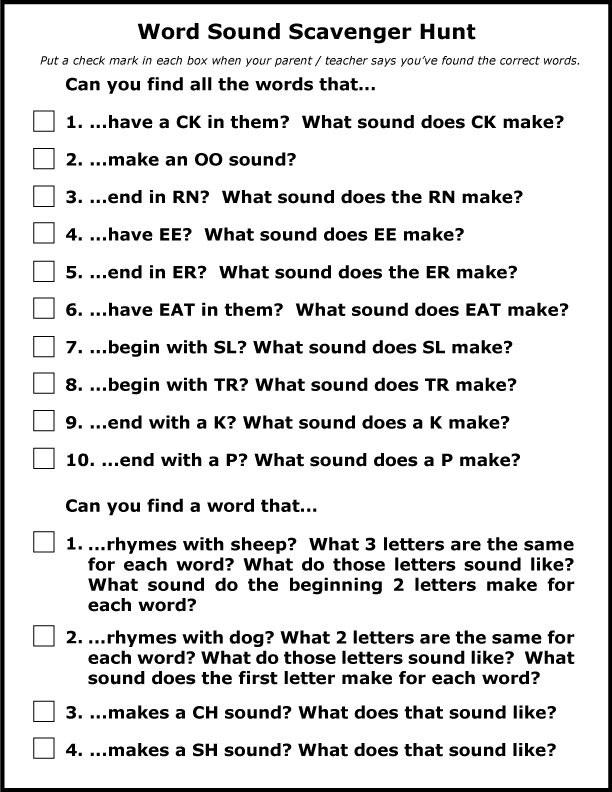 The worksheet has a checklist with 14 things for kids to find.

For each item on the list, have kids search through all the farm themed word cards, to find all the cards that has the phonic sound they need to search for.

You will need to verify if they have found the correct words. If they did they get to check it off their list.

Beside each item there are some short and simple phonics questions to be answered verbally, that will help kids break down the sounds that make up a word.
Word Scramble Activity
One at a time, give your student one of the last five worksheets. These have the images, and a place for each of the letters, but the actual letters are not shown.

For each word they will be working on, give your child the scrabble letters they will need.

If you didn't save the letters used during the coloring worksheet, you will need to assemble them together before your child can complete this. Make sure you jumble the letters up.

Your child sees the image to know which word they need to spell, sees how many letters the word has, and has the jumbled up pile of letters that make up the word. Now they need to sound out the word, and put the letters in the correct order to to re-create the words.
Spelling Activity
The last 5 worksheets can also be used as a simple spelling activity.

Let your child find the letters they need themselves. They can then use the letters to spell the words on their letter-less cards.
Download Free Printable Spelling Activity
You can download a free printable copy for your children below.
Please see printing recommendation on last page of .pdf before printing.
More Farm Learning Activities for Kids
Here are some more fun farm themed activities your kids might enjoy: