I can never forget the french verb worksheets my Grade 7 french immersion teacher had made for us. They were a simple but very effective tool as I have never forgotten the conjugations of the verbs we learned during that year.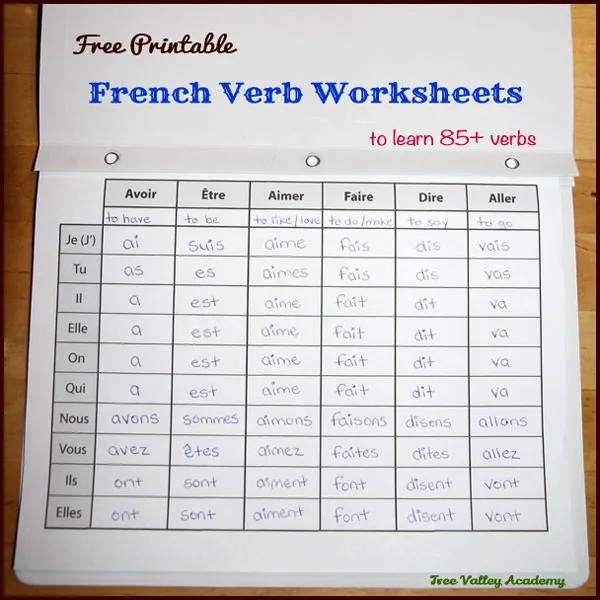 We are homeschooling french and by the end of my daughter's 2nd grade school year, my daughter will need to have mastered 16 verbs in the present tense as she will be tested on this knowledge by the school board.
With that goal, I recreated similar french verb worksheets. You can download them free, below.
French Verbs to Learn By The End of Grade 2 in Quebec
Grade 1
In Quebec, there are 6 verbs in the present tense that kids must learn in Grade 1. They are:
avoir (to have)
être (to be)
aimer (to like / love)
faire (to do / make)
dire (to say)
aller (to go)
For a free downloadable .pdf of these verbs in their conjugated form, see Grade 1 french verbs.
Grade 2
In Grade 2, there are 10 verbs to learn:
donner (to give)
jouer (to play)
parler (to speak)
demander (to ask)
lire (to read)
voir (to see)
devoir (must / have to / to owe)
pouvoir (to be able to / can)
vouloir (to want)
finir (to finish)
For a free downloadable .pdf of these verbs in their conjugated form, see Grade 2 french verbs.
How to Use The French Verb Worksheets
When we used this style of worksheets in my 7th grade, we had all the pages in a duo tang, and every time we learned a verb we would fill that verb out in each of our personalized verb books. We used our verb books throughout the year whenever we wanted to reference a verb.
There are 17 pages in total. The first page has the 6 verbs for first grade. Page 2 and 3 contain the verbs for second grade. The rest of the pages have 69 more common french verbs to learn, for a total of 85 verbs.
For my daughter, I started her with the Grade 1 verbs. To begin learning a verb, she would write in that verb in her duo tang or verb book as we call it. I give her other french verb worksheets and activities to practice each verb – many will be added to this website throughout the year.
After she had learned the 6 verbs of page 1, I gave her a copy of page 1 to complete. In fact, every week or so I give her a copy to fill out as a review, and will continue to do so until she passes her test at the end of the year.
Blank Pages
The last 2 pages are blank so any verbs that you want to add can be added there, for unlimited possibilities.
The blank pages could also be used to create a personalized child friendly verb dictionary (bescherelle). For example, if you wanted the verbs to be searchable alphabetically or by verb types, etc.
Alternatively, for more advanced students, they could use one page per verb and put the different verb tenses at the top of each column.
Printable French Verb Worksheets
You can download a free copy of these french verb worksheets below.
It's a 17 page pdf.