Enjoy this collection of over 150 fall words.
There's autumn vocabulary grouped alphabetically and by theme. There are terms for fall: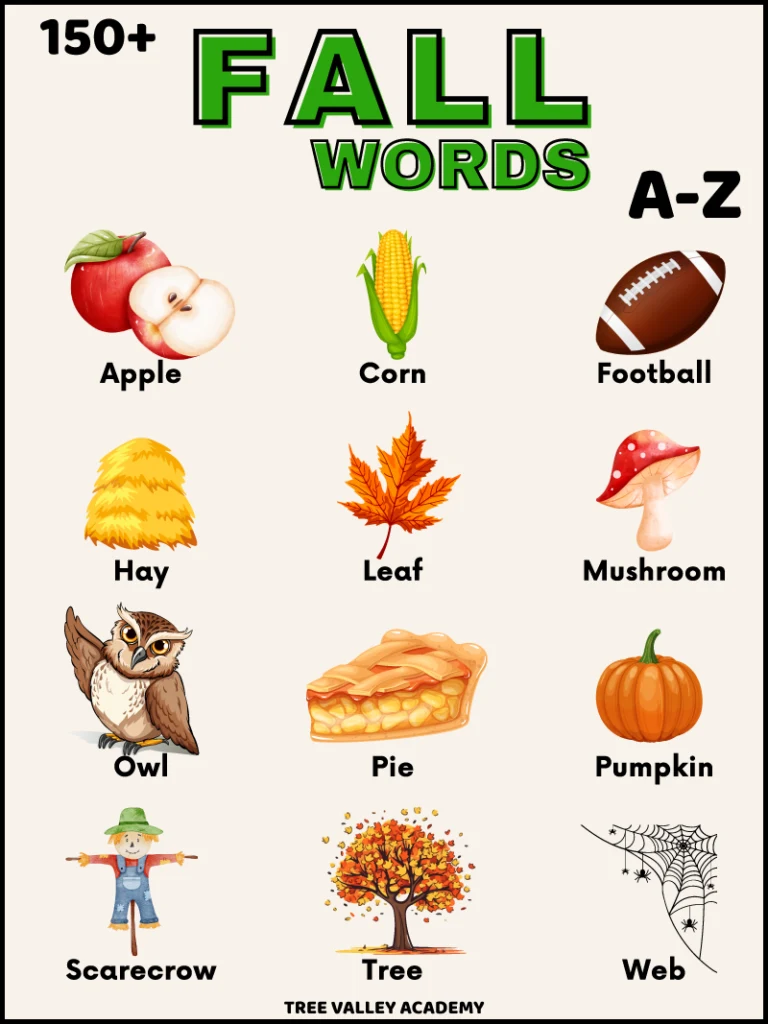 Fall Words From A – Z
Here is a list of autumn words in alphabetical order:
A
acorn
allergies
apple (pie, cider, crisp, juice, strudel, etc.)
autumn
Autumnal Equinox
B
back to school
bale of hay
barn owl
beanie (a type of hat often worn in the cooler weather)
birds
blanket
bonfire
boots
bramble (thorny bushes with berries that ripen in the fall)
breezy
brisk
brown (leaves)
butternut squash
C
caramel apple (a fall treat made by dipping apples in toffee or caramel)
changing
chestnut
chilly
chipmunk
cider
cinnamon
clove
cobwebs
colorful
colors
cool
corn (maze)
cozy
cranberry
crisp
crow
D
daylight savings time
deciduous (trees that shed their leaves in the fall)
dried (flowers, leaves, or fruits)
E
end of summer
equinox (fall equinox) (time when day and night are of equal length and marks the beginning of fall)
evergreen
F
fall (colors)
falling (leaves)
fireplace
firewood
flannel
fleece
fog
foliage
football
frost
G
ginger (a popular fall spice)
golden
gourd
grains (harvesting of grains often occurs in the fall)
gray skies
H
harvest
Harvest Moon
hay
hayride
hiking
hoodie
hoot (owl)
hot chocolate (a comforting drink enjoyed during cooler fall days)
hues (the different colors of fall foliage)
I
Indian corn
Indian summer
J
jacket
jump (in a pile of leaves)
K
L
lattes (such as pumpkin spice latte, popular fall beverages)
layering
leaf
leaves
long sleeves
M
maize (another word for corn)
maze
migrate
mulled wine (a warm spiced wine often enjoyed during the colder months)
mushrooms
N
nippy
November
nutmeg (a warm spice often used in fall recipes)
nuts (acorns, chestnuts, walnuts, etc.)
O
oak
October
orange
orchards
overalls (comfortable clothing often worn for outdoor fall activities)
overcoats
overcast (describing the cloudy and gloomy weather common in fall)
owl
P
pears
pecan
persimmon (a fruit that ripens in the fall)
pie
piles (leaf piles kids love to jump in)
pinecones
plaid (a popular fall pattern often seen on clothing)
pomegranate (a fruit in season during the fall)
pumpkin (pie, etc.)
pumpkin patch (a place where pumpkins are grown and harvested)
pumpkin spice (a popular flavor associated with fall)
Q
quilt (often used as cozy bedding or for warmth during cool nights)
R
rake
raking
reaping (harvesting crops in the fall)
red
root vegetables (such as carrots, beats, and turnips, commonly harvested in fall)
rustling
S
scarecrow
scarf
school (back-to-school season is in the fall)
season
September
s'mores
snuggle
socks
soup
spice
spider (web)
squash
squirrel
stew
sunflower
sweater
T
tea (fall is a popular time for warm beverages like tea)
trees
turnip (a root vegetable often harvested in the fall)
turtleneck (commonly worn in cooler fall weather)
U
V
vegetables
vibrant (fall foliage often displays vibrant colors such as red, orange, and yellow)
W
web
wet
wheat (a crop often harvested in the fall)
wheelbarrow
windy
woodpile (stacks of wood prepared for cozy fires in the fall)
X
equinoX
eXtra layers
xanthophyll – yellow pigments found in leaves during the fall season
Y
yam
yellow
yummy (name a fall food)
Z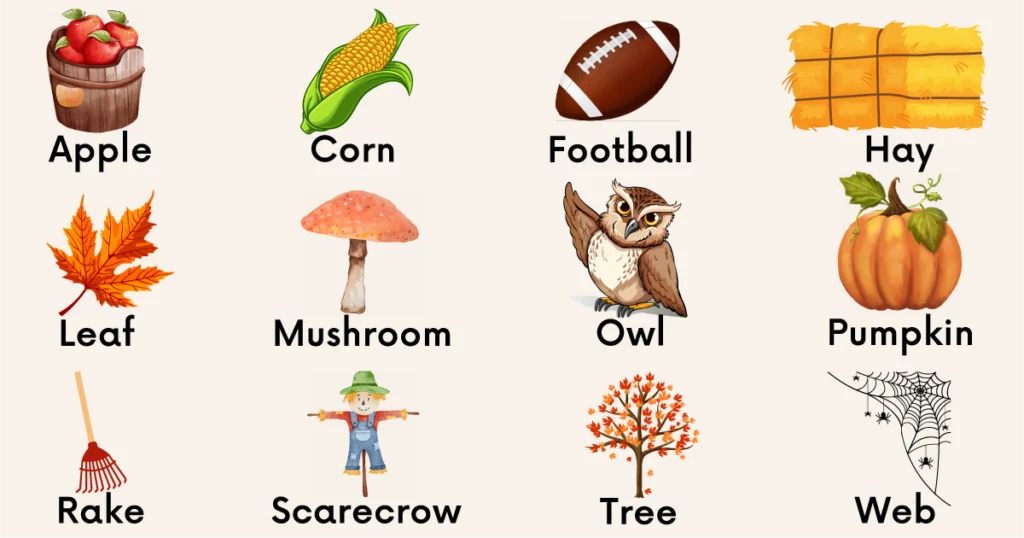 Fall Themed Word Lists
Below you'll find word lists for these autumn themes:
Fall Weather Words
Here is a list of autumn weather words. These words capture the various weather conditions often associated with fall, including cooler temperatures, foggy mornings, rainy days, and the changing atmosphere as the season transitions from summer to winter.
breezy
brisk
chilly
colder
cloudy
cool
crisp
damp
dew
drizzly
foggy
frost
gloomy
gray skies
hazy
misty
nippy
overcast
showery
stormy
rainy
windy
For more weather vocabulary, you can download a free printable pdf of weather terms for kids.
Fall Clothing Words
What clothes are commonly worn in the fall?
Since fall brings cooler weather, we usually look for warm and comfortable clothing. Fall fashion often includes layering to adapt to changing temperatures and to embrace the cozy, comfortable style of the season.
Here is a list of fall clothing vocabulary:
beanie
boots
cardigan
coat
flannel
hoodie
fleece
jacket
jeans
jogging pants
leggings
long sleeve shirts
overalls
pants
plaid
poncho
rain boots
raincoat
running shoes
scarf
shawl
socks
sweater
sweatshirt
tights
turtleneck
umbrella
vest jacket
windbreaker
Time Words of Fall
Here is a list of time-related words associated with fall. They relate to various aspects of time during the fall season, including the changing of clocks, the natural progression of the season, and events specific to this time of the year.
autumn
Autumnal Equinox
back to school – fall is when many schools resume classes after summer vacation
daylight savings time – In some regions, the clocks are adjusted in the fall to "fall back" one hour, resulting in earlier sunsets.
end of summer
equinox – The autumnal equinox marks the official beginning of fall when day and night are of equal length.
fall
harvest – the time when crops are gathered and collected in the fall
Indian summer
November
October
season
September
Fall Activity Words
These fall activities embrace the spirit of the season and offer opportunities to enjoy the beautiful weather and traditions that come with autumn.
apple picking – visiting an apple orchard to pick fresh apples
baking – making seasonal treats like pumpkin pie, apple crisp, and spiced cookies
bird watching – observing migrating birds as they travel to warmer climates for the winter
bonfires – gathering around a warm bonfire for marshmallow roasting and storytelling
camping
cider tasting – trying different varieties of apple cider
corn mazes – navigating through intricate mazes cut into cornfields for fun and adventure
football – watching or playing football
jumping in piles of leaves
leaf peeping – taking leisurely walks or drives to enjoy the vibrant colors of fall foliage
harvest fairs – attending local fairs that celebrate the agricultural harvest with games, food, and entertainment
harvesting – taking part in picking fruits, vegetables, or crops during the harvest season
hay rides – riding on a wagon filled with hay for a scenic trip through the countryside
hiking – exploring nature and hiking trails to witness the changing landscape during fall
photography – capturing the beautiful colors and scenery of autumn
stargazing – enjoying clear fall nights to observe the stars and constellations
visiting farms – exploring farms and participating in activities like petting zoos and corn mazes
visiting a pumpkin patch
Fall Animal Words
Here are some animals and animal vocabulary we associate with autumn.
These animals are often seen in abundance during the fall season, engaging in various activities like migration, mating, and preparing for the colder months ahead.
bats
bears – start preparing for hibernation by eating more in the fall to build up fat reserves
birds – various bird species begin their southward migrations during the fall
beavers – increase activity in the fall to build and repair their lodges before winter
chipmunks – busy gathering and storing food for the winter
crow
deer – mating season is in the fall, making deers more active and visible
foxes – often seen hunting for food and preparing for winter during the fall
geese – migratory birds that fly in V-shaped formations during the fall to head south for winter
hedgehogs – start preparing for hibernation as the weather gets cooler
Monarch butterflies – migrate southward in large numbers during the fall to avoid the colder weather
owls (hoot)
raccoons – become more active in the fall as they prepare for winter hibernation
spiders (webs)
squirrels – often seen gathering and storing nuts for the winter during the fall
turkeys
Fall Words That Rhyme
Trying to write a poem? Here's some autumn rhyming words to get you started:
hay, grey and day
rake and bake
football, overall and fall
wheat, treat, and beet
spider and cider
pear and bear
September, October, November, sunflower, sweater, zipper, layer, Indian summer, and ginger
wet, blanket and jacket
falling, changing, reaping, layering, raking, rustling, and hiking
wheelbarrow, crow, scarecrow, and yellow
beanie, tea, breezy, chilly, cozy, cranberry, nippy, toffee, windy, allergy, yummy, and hoodie
leaves, long sleeves, and trees
hay ride and dried
butternut, chestnut, nut, and walnut
hoot and boot
persimmon, pumpkin and cinnamon
gray sky and apple pie
warm beverage and vibrant foliage
If you think of anymore, please share in the comments below.
Fall Words for Kindergarten
Here is a list of easy words for kindergarten:
apple
bat
bird
boot
brown
corn
fall
hay
leaf
orange
owl
pear
pie
pumpkin
rake
red
tree
web
yellow
To practice some of these words, you can download a fun printable fall word search for kindergarten.
Fall CVC Words
Here are some autumn cvc words perfect for preschool or kindergarten children:
Fall Compound Words
A compound word combines two words to create a new term. Here are some fall compound words:
cobweb
cornfield
football
hayride
overcast
pinecone
raincoat
scarecrow
sunflower
woodpile
Can you think of any more fall words? Please share them in the comments.
Fall Word Puzzles
Here are some fun autumn word puzzles that uses only fall words: