Here are some free printable winter fill in puzzles for kids.
Word fill in puzzles are great for those cold winter days, when you want a quick and easy no prep indoor activity for kids to do. Just download and print.
The first puzzle uses winter weather and winter clothing vocabulary.
And the second puzzle focuses more on fun winter activities and common words you'd associate with winter.
Both puzzles also have some winter images that kids can color, if they enjoy coloring.
Word Fill In Puzzles
A fill in puzzle is a type of word puzzle that is very similar to a crossword puzzle. But instead of trying to find the answer to a clue, the fill in puzzle gives the words to put in the puzzle.
The challenge is figuring out where to put them. All the words need to fit in the puzzle.
The words are sorted by the amount of letters in each word. A 3 letter word can only be put in a spot that will hold 3 letters, and a 12 letter word a 12 letter spot.
Fill in word puzzles can be quite enjoyable to do. I loved doing them when I was a kid.
They are also educational, as they can help kids improve their logic skills, spelling and vocabulary.
Winter Weather & Winter Clothes
The first winter fill in puzzle has 33 winter words for kids to fit in.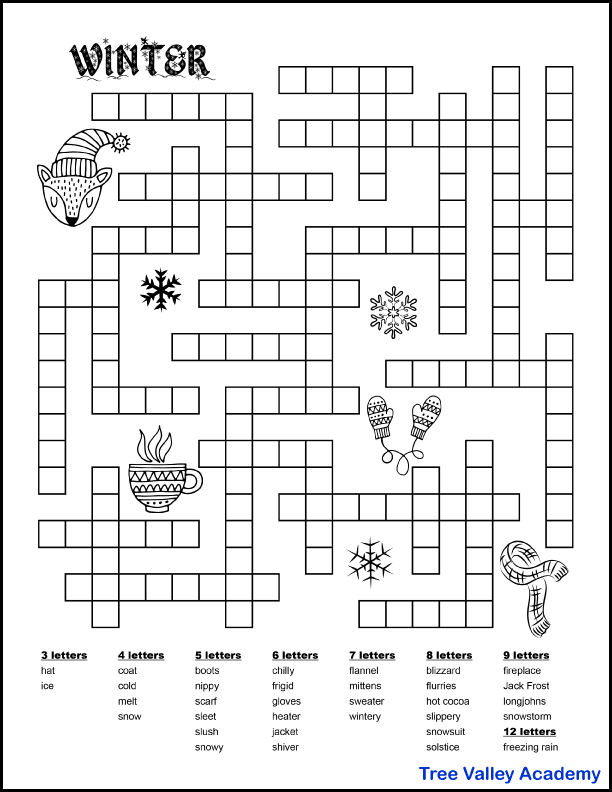 There are 3 letter words all the way to 9 letter words, and also a 12 letter word.
Some of the words to fit in are winter clothing vocabulary. Words like:
hat
coat
boots
scarf
gloves
jacket
flannel
mittens
sweater
snowsuit
longjohns
There are also items we use to help us get warm in the winter:
fireplace
heater
hot cocoa
The remaining words are winter weather vocabulary. Words like:
freezing rain
snowstorm
blizzard
flurries
slush
snowy
sleet, etc.
To help kids learn weather vocabulary including winter weather, check out this printable weather glossary for kids.
Winter Time Fill In Puzzle
This next printable fill it in puzzle uses winter themed words that represent all the fun things kids love about winter.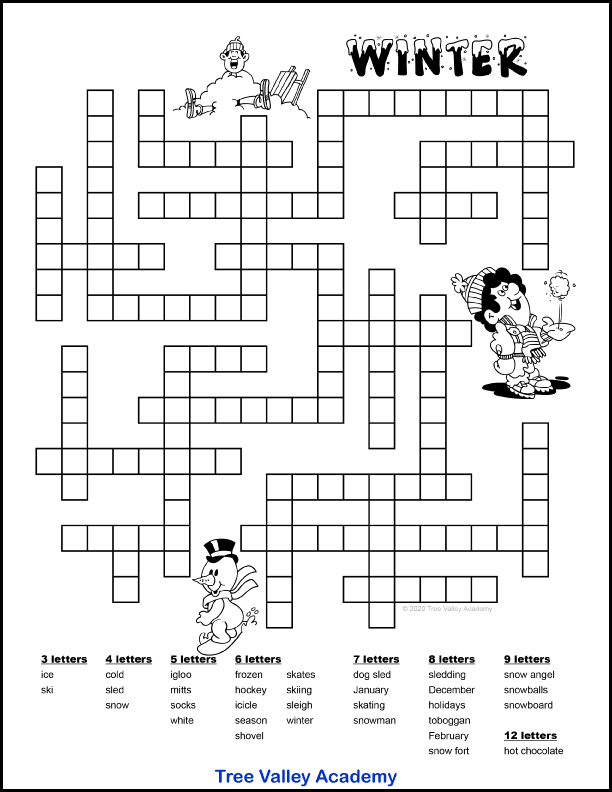 Winter activities like:
sledding
hockey
skiing
making a snowman, snow forts, snowballs and snow angels
tobogganing
and drinking hot chocolate.
There are 32 winter words for kids to fit in the puzzle. There are 3 letter words to 9 letters, and a 12 letter.
It would be perfect puzzle for kids about to go have or during the December holidays.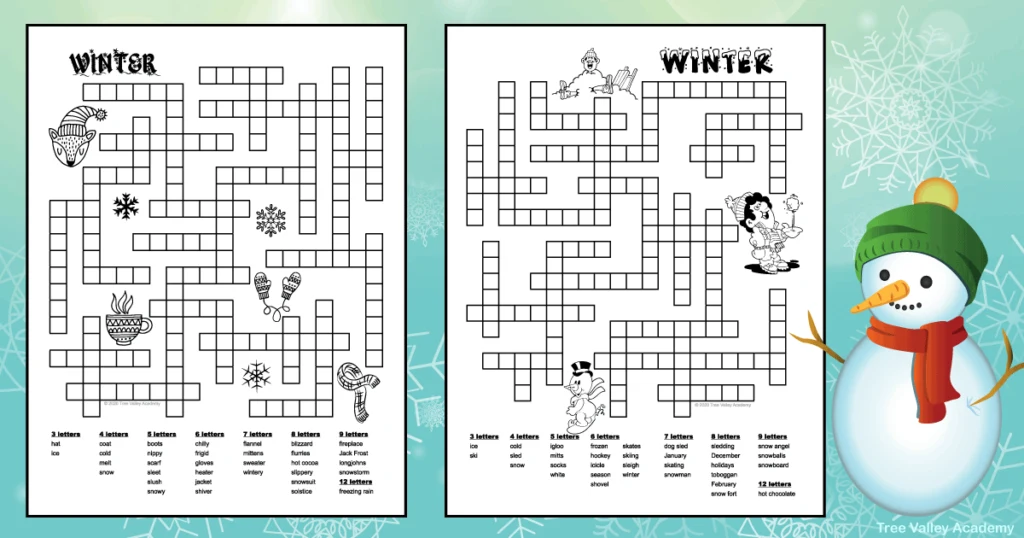 Free Printable Winter Word Puzzles
The winter fill in puzzles are free to download, and can be accessed below.
The 3 page pdf contains 2 winter puzzles and an answer sheet.
You will be able to choose to download or save the pdf to your computer, or print the puzzles out directly.
More Winter Word Puzzles
If you'd like more word puzzles for kids to enjoy during their winter break, check out our collection of word puzzles.
Or you can print a copy of any of these winter themed puzzles:
Winter Word Fill In Puzzles Answer Keys
Struggling to fit all the words in one of the puzzles? Here are the answer keys for these winter fill in puzzles:
And the answer key for the second winter puzzle: