Enjoy this bone-chilling collection of over 170 winter words.
There's winter vocabulary words grouped alphabetically and by theme. There's winter terms for:
There's also a free printable winter word list for kids with pictures.
Winter Words From A – Z
First, here is a list of winter words in alphabetical order:
A
B
beanies
bitter cold
black ice
blanket
blizzard
blowing snow
boots
bundle up
C
cabin fever
coat
cold
cold snap
chilly
cross-country skiing
curling
D
dark
December
deice
depressing
dip (referring to a drop in temperature)
dog sled
downhill skiing
E
earmuffs
eggnog
evergreen trees
F
family
fireplace
flannel
flurries
fort (snow)
freeze
freezing
freezing rain
frigid
frost
frostbite
frosty
frozen
fur coat
furnace
G
H
hat
heater
heavy snow
hibernate
hockey
holidays
hot chocolate (hot cocoa)
I
ice
ice fishing
ice hockey
ice scraper
ice sculptures
ice skates
ice skating
ice storm
icicle
icy
igloo
inclement weather
indoors
insulated boots
J
Jack Frost
jacket
January
K
knee-deep
knee high boots
knitting
L
lake-effect snow
longjohns
low temperatures
luge
M
melt
minus (temperature)
mittens (mitts)
N
New Year
nippy
Nordic skiing
numb
O
P
penguin
play
plow
polar bear
polar vortex
pond hockey
powdery
puffer jacket
Q
R
red cheeks or rosy cheeks
reindeer
rink (skating rink)
runny nose
S
SAD (Seasonal Affective Disorder)
scarf
season
shiver
shovel
skates
skating
ski
skiing
ski pants
sled
sledding
sleet
sleigh
slip
slippers
slippery
slopes (ski slopes)
slush
snow
snow angel
snowballs
snowbird
snow blower
snowboard (snowboarding)
snow day
snowfall
snow fence
snowflake
snow fort
snowman
snowmobile
snow pants
snowplow
snow removal
snow squall
snowshoes
snow shovel
snowstorm
snowsuit
snowy
snowy owl
socks
solstice
sweater
T
temperatures
thaw
thermal underwear
toasty warm
toboggan
turtleneck
U
undershirt
unending
unpredictable
V
vacation
vest
visibility
vortex
W
white
whiteout
wind chill factor
winter
winter boots
winter coat (or winter jacket)
winter holidays or winter break
Winter Olympics
winter solstice
winter storm
wintertime
winter tires
wonderland
wood stove
wool
X
eXtra layers of clothing
eXtreme cold
Y
Z
Zamboni (a machine used to resurface ice rinks)
zero degrees
Winter Words with Pictures
Here is a free printable winter word list with pictures for kids or English language learners.
It can help English language learners work on vocabulary. And kids can use it as reading practice or a picture dictionary to help them with the spelling of winter words.
The printable has 30 winter images with 32 winter words.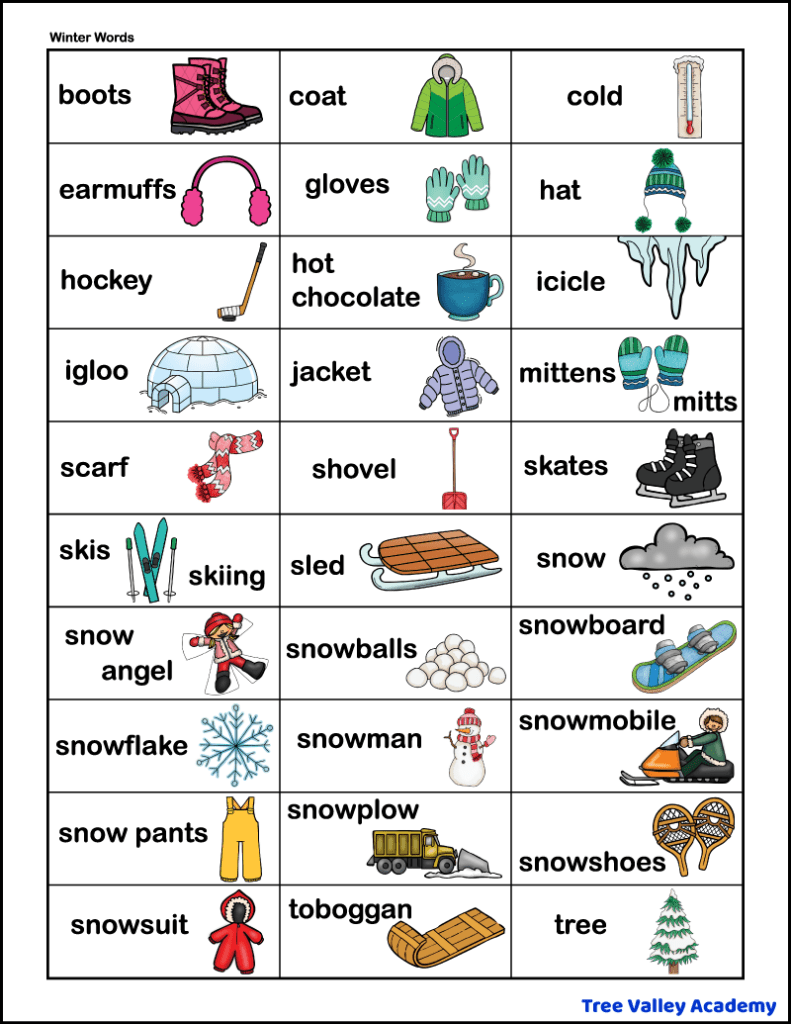 You can choose to print the one page printable in color or black and white. You can download it free below.
Winter Themed Word Lists
Below you'll find word lists for these winter themes:
Winter Weather Words
Here is a list of 35+ winter weather words:
below zero
blizzard (also: blizard watch, and blizzard warning)
cold (also: cold front, cold snap)
degrees
flurries
freezing rain (also freezing rain advisory)
frigid
frost (also: frost bite)
frozen
ice (also: black ice)
ice storm (also: ice storm warning)
icy
lake effect snowstorm
low visibility
melt
minus
nippy
overcast
polar vortex
sleet
slippery
slushy
snow (also: blowing snow, heavy snow, and snowdrift)
snow squall
snowstorm
snowy
temperatures
thaw
whiteout
wind chill factor
winter precipitation
winter storm (also: winter storm warning, winter storm watch)
winter weather advisory
wintry mix
To help kids learn weather vocabulary including winter weather, check out this printable weather terms for kids glossary.
Winter Clothing Words
What clothes are commonly worn in the winter? Here is a list of winter clothing vocabulary:
beanies
boots
coat
earmuffs
flannel
gloves
hat
jacket (puffer or down)
leggings
longjohns
mittens
overcoat
parka
scarf
ski boots
ski goggles
slippers
sweater
snow pants
snowsuit
thermal underwear
turtleneck
wool socks
Winter Adjectives
What are some good words to describe the winter season? Here is a list of some winter adjectives. Let me know in the comments below if you think of any others.
bitter
bone-chilling
chilly
cloudy
cold
crunchy
draft
dreary
foggy
freezing
frosty
frozen
glittering
heavy
icy
melting
misty
powdery
slippery
slushy
snowy
sparkling
wet
white
Time Words of Winter
Here is a list of time words associated with winter:
December
December Holidays
January
February
season
winter solstice
Winter Holidays
Winter Activity Words
Winter is a time for bundling up and enjoying the beautiful winter wonderland outside. Here are some fun winter activities:
building snow forts
cross-country skiing
curling
dog sledding
downhill skiing
drinking hot chocolate
hockey
ice fishing
making a snowman
skating
skiing
sledding
snow angels
snowboarding
throwing snowballs (or a snowball fight)
tobogganing
If you're looking for more of an indoor winter activity for kids, print out some of these fun winter activities and word puzzles.
Winter Animal Words
Winter is the season when many animals hibernate. Other animals thrive in the winter or even in the Arctic.
Here are some of the animals we associate with the winter months:
arctic fox
beluga whale
Canada goose
deer
moose
musk ox
narwhal
orca
penguin
polar bear
reindeer
snow leopard
snowshoe rabbit
snowy owl
walrus
Here are some fun arctic animals color by number sheets for preschool.
Winter Sports
These are the most common winter sports:
curling
dogsledding
hockey
skating (including figure skating, freestyle & speed skating)
skiing (downhill and cross-country, as well as ski jumping)
snowboarding
Other winter sports that you might see at the Winter Olympics are:
alpine skiing
biathlon
bobsledding
luge
nordic combined (combines cross-country with ski jumping)
skeleton (similar to luge but head first)
Winter Words for Kindergarten
Here are some easy words for kindergarten, including a few winter cvc words:
boot
coat
cold
fun
hat
ice
mug
ski
snow
To practice some of these words, you can download a fun printable winter word search for kindergarten.
Winter Compound Words List
A compound word is a word that is made up of 2 words that form to make a new word.
Here is a list of winter compound words:
chairlift
dogsled
downhill
earmuffs
evergreen
fireplace
frostbite
gingerbread
indoors
outside
overcoat
pinecone
reindeer
turtleneck
undershirt
whiteout
wintertime
wonderland
Winter Themed Open Compound Nouns
Some compound words can be referred to as open compound words. They are also formed with two words, but keep the space between them. The combination of both words creates a new compound word with its own meaning.
Here is a list of winter-themed open compound nouns:
hot chocolate
ice fishing
ice hockey
ice rink
ice sculpture
ice skates
ice storm
ski goggles
ski resort
sleigh ride
winter coat
winter sport
Winter Words List of Open Compound Verbs
And here are some examples of wintry words that are open compound verbs:
Compound Words with Snow
And here are some compound words with snow in them:
snowball
snowbank
snowbird
snowboard
snowdrift
snowfall
snowflake
snowman
snowmobile
snowplow
snowshoe
snowstorm
snowsuit
And here are some open compound words with snow:
snow angel
snow boots
snow brush
snow cone
snow fort
snow globe
Winter Spelling Words
Here is a list of winter-themed spelling words that are learned in each elementary grade:
1st Grade Winter Spelling Words
In grade 1, students will learn to spell these winter words during the year:
hat
sled
hill
pull
play
made
snow
man
2nd Grade Winter Spelling Words
There are only two 2nd grade spelling words that are winter-related. They are:
3rd Grade Winter Spelling Words
There are 12 words on the winter themed 3rd grade spelling list:
snowman
snowball
ski
skates
skating
freeze
winter
boots
coat
slip
ice
icy
Here's a fun printable word search that uses these 3rd grade winter words.
Later on during the year, 3rd graders will also be learning to spell the words:
vacation (winter vacation)
holiday (winter holidays)
4th Grade Winter Spelling Words
I could only find 5 winter words on the 4th grade spelling lists:
zero
hockey
melt
frozen
season
5th Grade Winter Spelling Words
There are 15 words on the winter themed 5th grade spelling list. They are:
frost
gloves
iceberg
igloo
mitten
penguin
scarf
shiver
shovel
skiing
slush
snowboard
snowflake
snowsuit
solstice
Kids can have fun searching for these 5th grade words with this fun winter word search.
There are 8 other wintertime words 5th graders will learn to spell during the year. They are:
December
January
February
sweater
storm
predict
conditions
major
6th Grade Winter Spelling Words
Grade 6 students will learn to spell at least 10 winter words. The theme of one of the 6th grade spelling lists is winter and weather. It has these winter words:
blizzard
covered
forecast
hibernate
prediction
sleigh
slippery
temperature
thermometer
toboggan
Can you think of anymore wintertime words? Share them in the comments.