Here's a free printable December 2023 calendar worksheet for 1st and 2nd grade students. There's a different page for each of these elementary grades.
The free downloadable pdf also includes a blank printable calendar for the month of December 2023.
Calendar worksheets are a great tool when teaching calendar skills to kids.
December Calendar Activities for Kids
The snowman and winter themed calendar worksheet is meant to be used multiple times throughout the month of December.
Each worksheet has 19 calendar questions for kids to answer.
And the December worksheet will have kids writing on their calendar any important dates, events, or activities they have planned during the month.
And they will be coloring the calendar boxes that they have school one color, and no school days a different color. This will allow them to visually see when they have their winter holidays.
Each day the child works on their worksheet they can:
answer one calendar question
color the snowman of the question they've answered
December 2023 Printable Calendar
There is a full page printable calendar for the month of December 2023 included in the pdf.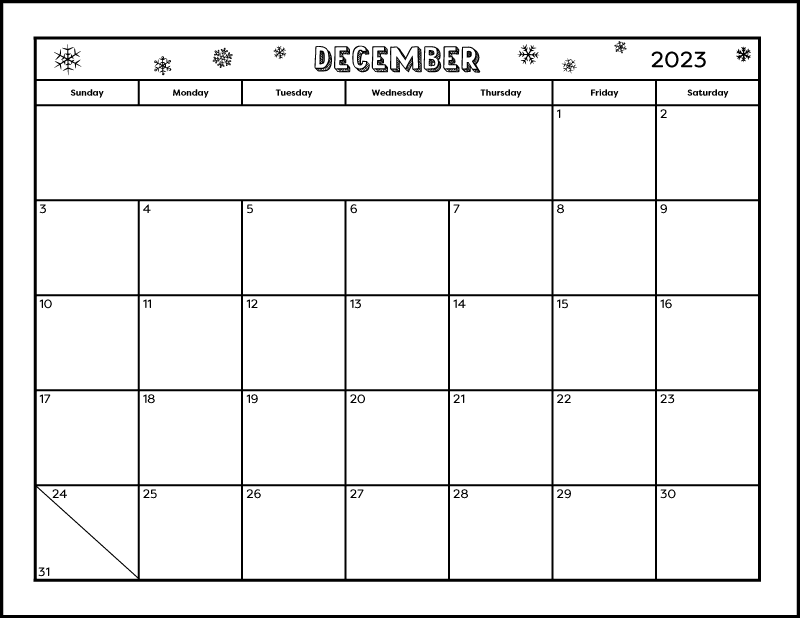 Printable December Calendar Worksheets
The math calendar worksheets for December 2023 are free to download below. The 3 page pdf contains:
a worksheet for grade 1 students with 1st grade calendar questions (page 1)
a worksheet for grade 2 students with 2nd grade calendar questions (page 2)
a December 2023 printable calendar (page 3)
More Printable December Activities
Here are some more fun printable December activities for children in grades 1 and 2:
Here's the link for the printable January 2024 calendar with worksheets.